Sussex Mile Results 2015
|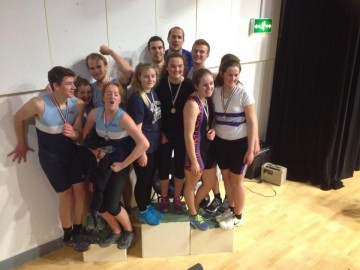 The 4th annual Sussex Indoor Mile took place at Bexhill High School, with another great turnout of competitors from the CARA clubs as well as participants from Portsmouth University and the MAD team. The fastest time of the day went to Bexhill's Matt Hellier in a time of 4 mins 58 secs. The second victory for Bexhill came from Chris Mizen in the Vet 40's category, winning by 0.4 of a second in 5 mins 17 secs. Clive Bingham recorded a bronze in the Vet 50's with Will Knapp taking silver in the College Boys Category and Nick McCorry also taking silver in the Mens 30's category.
The Bexhill Ladies performed well with the fastest lady from Bexhill being Georgia Pepper coming second in the college girls category and 6th overall. Abbie Little picked up a second in the Year 10 girls, with Charlie Cooper also picking up a second in the year 11 girls.
The final race of the day saw Bexhill win the Team Relay, well done to Doug Holdaway, Matt Hellier, Millie Jones and Abbie Little. However the most entertaining race of the day saw a few x-brc rowers coming out of retirement to give it a go and race the oldest competitor of the day Charles Moorley who travelled all the way down from Birmingham. Well done to Steve Doswell, Steve McCorry and parents Ian Cooper who did it for a second time in one day and Clive Garland.
Thanks to all those who helped, roll on the season and next year.