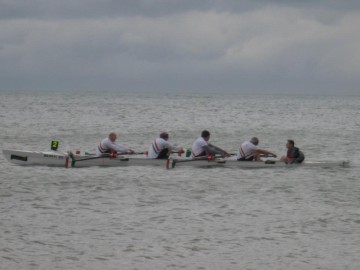 Bexhill Rowing Club travelled to a wet and windy Deal on Saturday for the Viking Shield regatta, which is a pre-season regatta before the main season kicks off in May. The club came away with four wins and numerous top three placed finishes indicating that winter training has been paying off and the club has high hopes for defending their league title for a record 15 consecutive time this season.
The first win of the day came in the Men's Junior Pairs with Will Knapp and Martyn Matt rowing a good course in the testing conditions to claim their maiden pairs victory together.
The B pair of Lewis Sealy and Adam Baker, suffered a collision at the first set of turns resulting in them having to retire from the race. Bad luck also struck the four when they teamed up together for the Mens Junior Fours, another collision resulted in a snapped oar which denied the crew from their solid 2nd place, they will be looking improve over the next few weeks to challenge for the win at the next regatta.
Win number two came from the Mens Novice Four of Tim Rumsey, Tom Green, Max Mowbray and Kieran Kingsnorth, coxed by last seasons No.1 Coxwain Rachael Garland. They rowed through the bigger and more experienced Eastbourne Crew in the last 20 meters to take their maiden win.
Next up were last seasons Vet 50 crew of Dave Jones, Marc Cowling, Clive Bingham and Andrew Wilson, taking part in a combined Vet 50's and Vet 40's race, the crew dominated the race, rowing into the lead off the start and holding off the fast chasing Folkestone crew to take the win. The impressive result should give the crew confidence to push on the training for the opening regatta weekend.
The final win in the Mens Junior Sculls with Phil McCorry sculling the conditions well with club mate Greg Anderson taking 4th place.
Other results included 2nd places in the Mens Senior Fours, Ladies Senior Fours, Ladies Senior Pairs, Mens Senior Pairs and Josh Green recording an impression 2nd on Mens Novice Sculls.
The Ladies Novice crew of Bethan, Jany Blatcher, Charlie Cooper and Maya Coussens rowing the difficult conditions very well to record a 3rd place with Abbie Little and Charlie Cooper going onto record another 3rd place finish in the final race of the day.
The next regatta is on Saturday 16th of May where Bexhill will be hosting the Hastings Regatta at Bexhill following by the annual Bexhill Regatta on the Sunday.